FLEXDAMPERS
RetroZone's patented energy saving Flexdamper system makes retro-fit zoning and other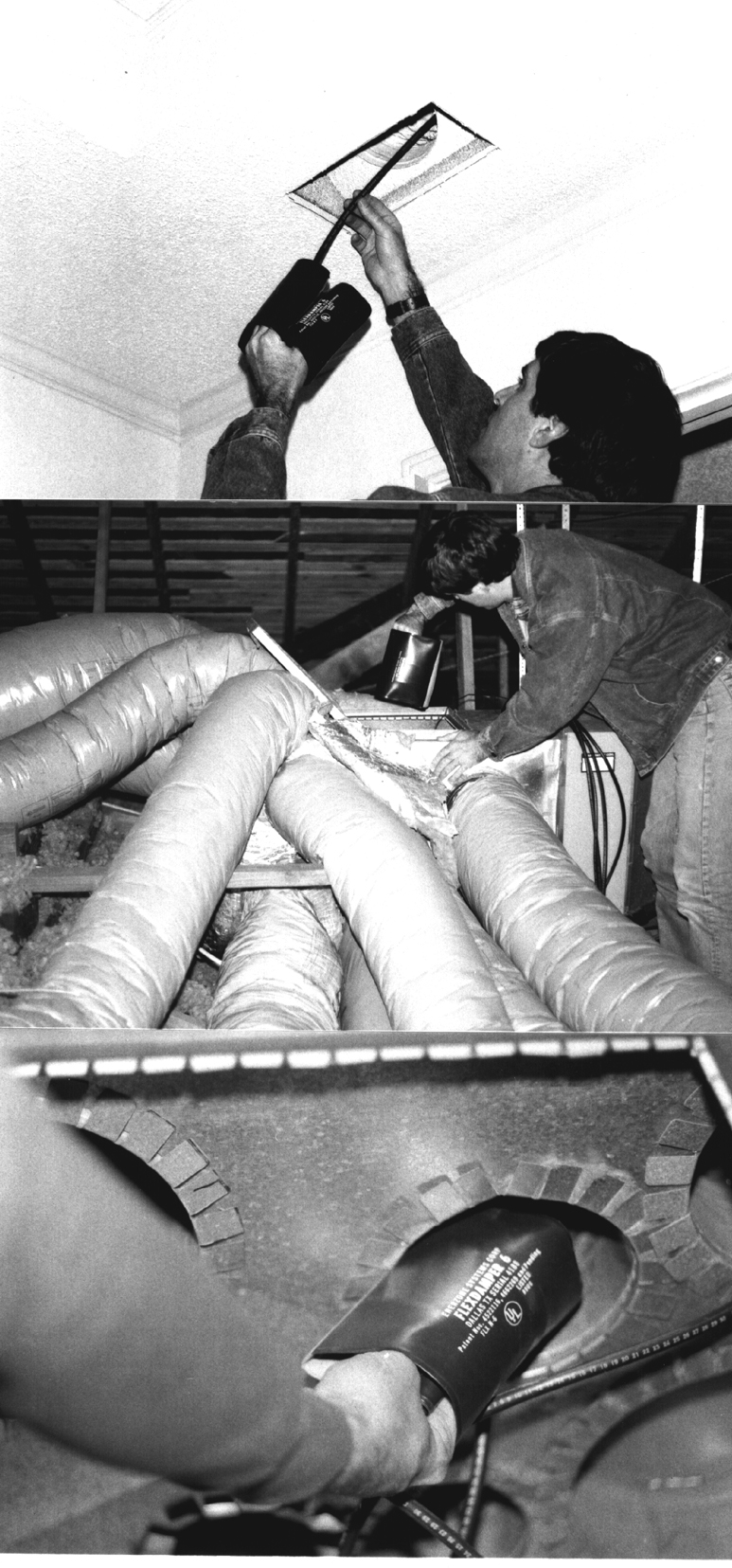 types of HVAC air control practical and affordable. The energy saving Flexdampers are designed to insert into the existing ductwork with little or no modification and will operate with almost any brand of zone control panel.
IN RETROFIT APPLICATIONS use Flexdampers whenever the job requires more than one damper per zone. The Flexdamper's lower unit cost makes zoning practical in retrofit, multi duct systems that may need several dampers per zone cutting material and labor costs by thousands.

IN NEW CONSTRUCTION use Flexdampers where in-truss or other hard to access ducts will not allow the use of mechanical dampers. Flexdampers are designed to work in steel or flexible duct and can be easily serviced from a register or plenum.

MATERIALS used by the military in F-16 fighter aircraft, medical apparatus, and HVAC ducts around the world make Flexdampers resistant to heat, moisture, aging, airborne chemicals, and ozone, delivering many years of reliable service. Unlike a balloon, when inflated the Flexdamper skin is not stretched and fatigued. The skin simply repositions itself at ultra low air pressure to block airflow through the duct. In the unlikely event the outer Flexdamper skin is punctured, the constant supply of air the SPP Solenoid Pump Panel makes the leak virtually unnoticeable to system operation.
This is the Original Flexdamper Airzone System developed by Enerzone Systems Corp.
ROUND FLEXDAMPERS

Available in 4,5,6,7,8,9, and 10 inch sizes, Flexdampers are stocked for immediate delivery. Dampers are packaged in a clear poly bag and come with a straight and "T" connector.

RECTANGULAR FLEXDAMPERS
Install through the register or plenum into an existing rectangular section of sheet metal. Remotely powered by air, the rectangular Flexdampers are not hindered by the presence of a bulky motor on the outside of the damper or on the inside of the damper to disrupt airflow.

Easily bent or folded, the rectangular Flexdamper is inserted through a register or other smaller opening, making this damper your only option for retrofitting air control into ducts that have been covered with sheet rock or other obstacles, eliminating sheet metal cutting.

Rectangular Flexdampers fit several sizes of duct, due to their "trim-to-fit" design. Simply measure the size of the duct and trim the blade and base of the rectangular Flexdamper to the correct size using scissors or a razor knife.

Rectangular Flexdamper Sizing Chart

Rectangular ducts 10"x04" and smaller rectangular ducts 14" x 08" to 6" x 6" rectangular ducts 24" x 08" to 14" x 08" rectangular ducts 14" x 12" to 14" x 08" rectangular ducts 24" x 12" to 14" x 12"



Specs for Round and Rectangular Flexdampers
Rated Cycles: Average of 250,000 cycles, depending on environment
Temperature Range: 0° to 200° F intermittent, 0º to180º F continuous Inflation Pressure: 10 W.C. (Approx.1/3 PSI)
Leakage: 10% Average.
Static Pressure: Flexdampers are rated for static pressure to .5"
Pump: 110VAC with 24VAC interface. A single pump will handle most applications. Certain installations requiring automatic heat/cool changeover, or using multiple large Flexdampers will require faster actuation times--add a second pump if needed.